Hosting a Blood Drive
To meet the needs of all of the members of the Appalachian Highlands community, Marsh Regional Blood Center needs a steady flow of local blood donations.
While individual donations at our three regional blood collection centers are a key part of maintaining the area's supply of blood and blood components, most of Marsh's blood donations are given by groups using one of our four bloodmobiles.
Where will Marsh bring a bloodmobile?
Our bloodmobiles will come to you! We currently serve 19 counties in Northeast Tennessee and Southwest Virginia. Each region has a blood drive recruiter familiar with the area who can help you get started.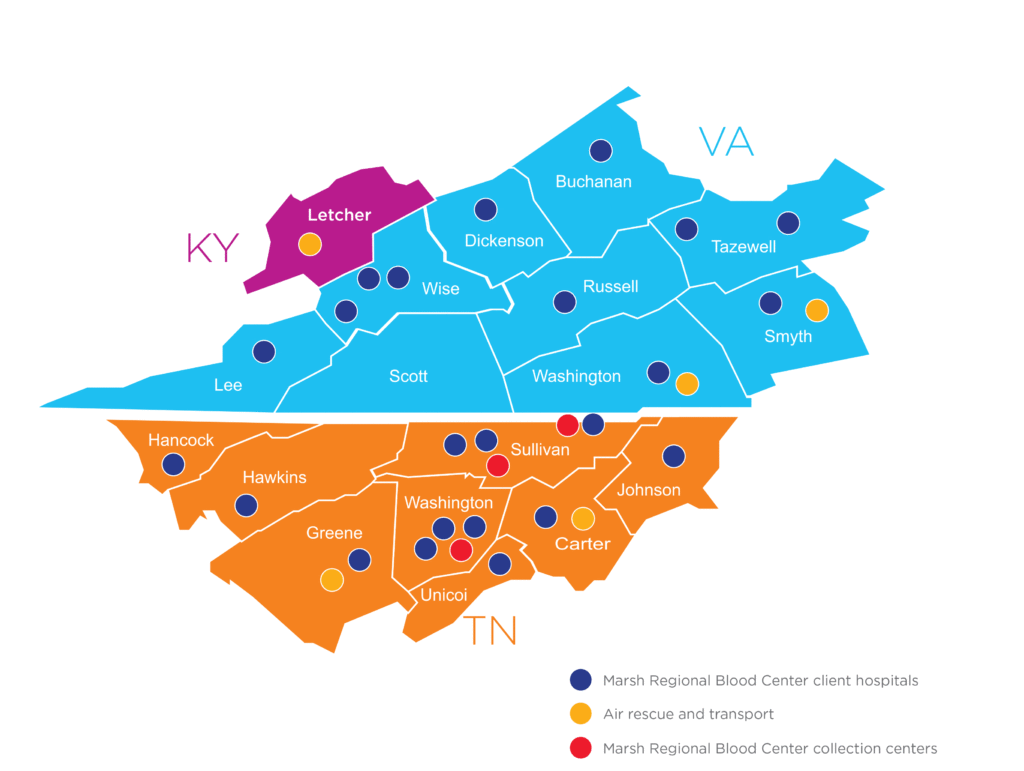 Virginia Blood Drive Service Areas
Bristol, VA
Norton, VA
Dickenson County, VA
Buchanan County, VA
Lee County, VA
Wise County, VA
Russell County, VA
Tazewell County, VA
Grayson County,
Wythe County, VA
Smyth County, VA
Washington County, VA
Scott County, VA
Tennessee Blood Drive Service Areas
Johnson County, TN
Unicoi County, TN
Carter County, TN
Greene County, TN
Washington County, TN
Sullivan County, TN
Hancock County, TN
Hawkins County, TN
Who can host a blood drive?
Our bloodmobiles travel throughout the region visiting local businesses, churches, organizations and civic groups that host blood drives. We're always looking for additional locations for drives.
In most cases, groups with at least 20–25 people interested in giving blood can host a blood drive. If you're a high school student, you can also qualify for scholarships when you host a blood drive.
How do I host a blood drive?
Once you decide that a blood drive is right for your group or organization, we can help provide all of the necessary information, resources and materials to advertise and host an event that's both fun and successful.
We have a professional recruiter dedicated to scheduling and helping organize our mobile blood drives.
We currently has three four-bed bloodmobiles and a two-bed bloodmobile available for on-site blood drives. We also offer the option of setting up a breakdown blood drive, working with you to identify a convenient location inside your facility with enough space and resources to set up our mobile equipment.
If your business or organization is interested in helping our region's blood supply, please use our registration form or call (423) 408-7500.