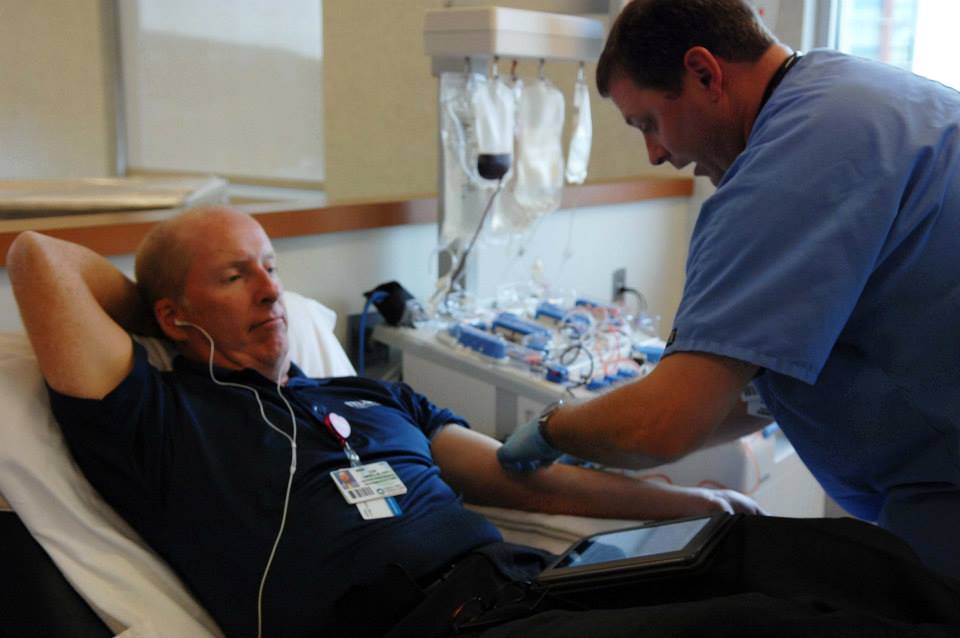 Giving Platelets
In addition to giving whole blood, you can also save lives by donating platelets, the component of your blood that causes clotting. Platelets are useful in the treatment of patients with cancer, leukemia, aplastic anemia and other diseases that suppress the body's ability to produce them. Platelets may also be used in trauma cases and during surgeries.
One platelet donation contains eight to 10 times as many platelets as a regular blood donation, providing even more benefit to patients. But, once donated, platelets are only good to be transfused for five days, so there is a continuous need for donors. And since your body replaces platelets within 24 hours, you may donate every 72 hours, up to 24 times per year.
It's simple.
A special machine draws whole blood from the donor's arm, separates the platelets and returns the other components to the donor's body.
You may watch television or a movie, read a magazine or book or simply relax during your donation.
Since platelet donations take a little longer than giving blood, these donations are pre scheduled for your convenience.
Prior to giving platelets, you will be asked to complete a simple questionnaire to help ensure that your donation will be safe for you and the recipient.
It's quick.
Although not as quick as giving blood, the entire process typically takes about two hours.
The actual donation lasts about 90 minutes.
It's safe.
Marsh Regional staff will test your blood pressure, pulse, temperature and red cell level before you donate.
Donors are carefully monitored by a specially trained technician.
To protect the safety of you and the recipients, you SHOULD NOT donate platelets if any of these statements apply:
You weigh less than 110 pounds.
You are younger than 18 years of age.
You have had a cold, sore throat, fever, flu or fever blisters within three days of your donation.
You have taken aspirin or a product containing aspirin within 72 hours of your donation time.
You have taken a non-steroidal anti-inflammatory drug (NSAID) within 24 hours of your donation time.
You are currently taking an antibiotic for an infection or have taken an antibiotic within the past seven days.
You have not eaten a well-balanced and substantial meal within four to six hours of your donation.
You are a lactating mother (The anticoagulant used during the procedure can cross over into the mother's breast milk.)
You have a history of hepatitis, heart disease or most cancers within the last five years.
You have had a blood transfusion, or accidental needle stick within the past 12 months.
You have received a tatoo from a state-licensed facility less than three months ago.
You have had a major surgery in the past six months or pregnancy within the past six weeks.
You have ever had a positive HIV test or had sex in the past 12 months with anyone who has had one.
You have ever used illegal IV drugs or had sex in the past 12 months with anyone who has done so.
You have received or given money or drugs for sex since 1977.
You are MALE and have had sex with another male since 1977.
You are FEMALE and have had sex in the past 12 months with a male who has had sex with another male since 1977.
As a token of our appreciation for your gift of life, you will receive complementary refreshments and a free t-shirt or other item after your donation.
If you are interested in becoming a platelet donor, have additional questions or would like to schedule an appointment, please contact us at (423) 408-7500.