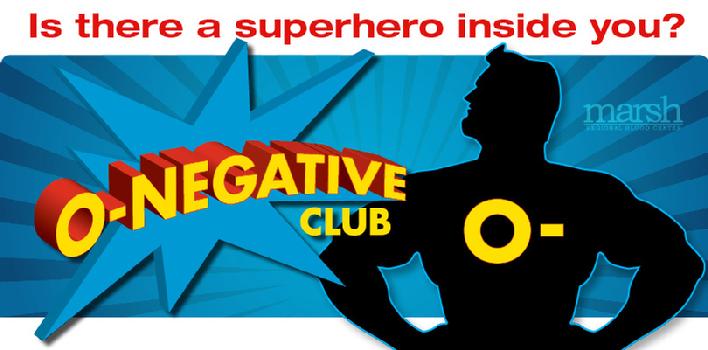 Have you ever wanted to leap tall buildings in a single bound? Fly to the tops of trees and rescue small puppies? Be the person who saves the day?

Better yet, what about becoming part of a team of special people who possess the power to save lives?
Today just might be your day. You may have what it takes to save a life when many others can't.
In an emergency seconds matter, and patients often require blood to survive. There's no time to determine blood type. Lifesaving blood needs to be there and be ready. That's the time for O-negative blood.
Since O-negative is the universal blood type, it is the only type that can safely be administered immediately in an emergency. But only six percent of people in the world have O-negative blood, and that makes those donors unique. It makes them superheroes, if you will.
So if you have what it takes – type O-negative blood – we want to invite you to join Marsh Regional Blood Center's O-negative Club. By giving at least three times a year or simply donating one more time each year if you already give, you can help ensure critical patients have the blood they need.
Being a member – uh, superhero – also includes some perks like exclusive O-negative Club T-shirts and other club swag from time to time. But, let's face it. There's no perk as rewarding as knowing you are part of something bigger than yourself.
So do you have what it takes to be a superhero inside you? If you do, join the O-negative Club today and begin making a difference in the lives of people right where you are. If you're not sure, contact Marsh Regional and see if you've got the right stuff.

O-negative donors – join the club. Come to the rescue.